Description
What's in the box?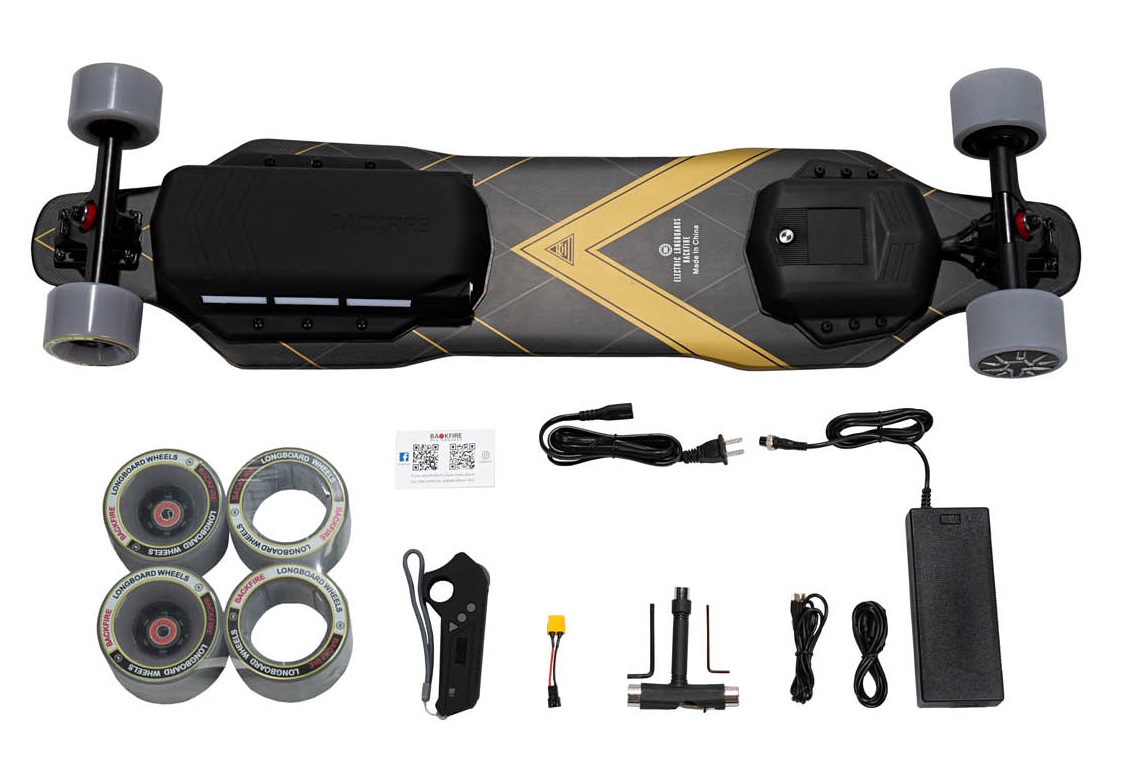 1 x completely assembled Backfire G3 Plus
1 x R2X remote with USB Type-C charging Cable
1 x certificated charger
1 x DC port charger adapter UK
1 x T-tool
1 x set 85mm & 96mm Wheel Sets
1 x User manual
1 x Extra HEX Key
1 x Battery Diagnostic Cable
Product Descriptions
THE WORLD'S FIRST FLEXIBLE PURE CARBON FIBER DECK
The G3 Plus deck is made of aerospace grade carbon fiber, which is sturdy and durable while retaining the flexibility of the deck. The weight is reduced by 640g compared with maple deck of the same size. And the professional concave design brings you an excellent riding experience.
SUPER LONG RANGE WITH SAMSUNG 21700 40T BATTERY
G3 Plus uses the Samsung 21700 40T battery with 346Wh power and 70A output current. The output is stable with large capacity, which can provide up to 20-25miles / 32-40km long range.

PURE CARBON FIBER DECK
G3 Plus deck is made of pure carbon fiber and retains the flexibility of the board, which helps greatly reduce road bumps and maintain stability at high speeds.

600W * 2 HIGH POWER HUB MOTORS
G3 PLUS is equipped with two 600w high-power high-torque DC hub motors which provide strong power for the board with a maximum speed of 46km/h.

FRONT & BACK CALIBER II TRUCKS
G3 Plus is equipped with the front and back Caliber II trucks, which bring you an extraordinary riding experience and improved stability in high speed riding.

USB CHARGING INTERFACE
G3 Plus has the USB charging interface that allows you to charge your mobile phone or remote control anytime anywhere conveniently and quickly.

85 & 96MM REPLACEABLE WHEELS
G3 Plus provides 85 and 96mm replaceable wheels for various situations. The 85mm wheels are suitable for fast acceleration, track mode, drift and slide. The 96mm wheels are perfect for long distance commuting.
R3 WIRELESS REMOTE WITH OLED DISPLAY
Backfire exclusive R3 wireless remote, OLED display, live status, change settings.
The R3 wireless remote control has a Turbo key that is pressed to gain 20% extra power during acceleration.
Fixed speed road cruise
Eco mode, Sport Mode, Turbo Mode
Board status display: mode, speed, range, battery, connection, odometer
Speed and range unit setting: miles or kilometers
The remote has three wheel diameter setting: 83m, 96mm(G3 ,G3 plus&Zealot) or 165mm(Ranger X2)
Backfire Exclusive
Keyword: Backfire G3 Plus Malaysia